The Olaya Cartel is one of the Ghost Cartels of South America.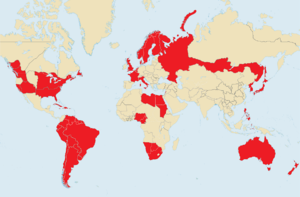 The Olaya Cartel is connected to KondOrchid, an AA-corporation, by CEO Jaime Salazar. It is the most powerful of the Ghost Cartels, having its origins in the Cali Cartel.
Two Amazonian cities in the central eastern coast of the nation, Salvador and Fortaleza, are centers of drug production for the Olaya Cartel which exports the cities' goods to the Caribbean League. In addition to its drug trafficking, it runs gambling and prostitution operations in the cities (e.g. Bogota and Caracas). In the city of Caracas, it dominates the sex trade, running brothels with meat puppets (aka, bunraku). The reach of the Olaya Cartel was extensive with its smuggling operations reaching Europe, North Africa, Sub-Saharan Africa, the Middle East, North America, Russia, and across to the other side of the Pacific Rim.
It is headquartered in Guayaquil, with major operation centers in Bogotá and Caracas. It also possesses close ties with elements of the Amazonian government. Th e group frequently uses KondOrchid, a transnational shipping and transport corporation owned by cartel leader Jaime Salazar, to carry hidden cargoes of narcotics to ports in the Pacific Rim, South Atlantic, and elsewhere. Adept at knowing how to hide these products in their ships in order to evade detection and taking full advantage of its xtraterritorial status, KondOrchid has long been suspected but never caught. Between KondOrchid and employing dedicated smugglers operating along the Andean Highway and over the Muralha Verde, the Cartel is able to ship the drug in its various forms for processing and distribution to its target markets around the world.