I bor på 3 sal på grænsen mellem Tacoma og Puyallup (i udkanten af Octagons territorium), hvor der er et dårlig/lav middelkvalitets horehus i stuen og på første sal. I fungerer som sikkerhed og general management af stedet. I referer til en mellemleder, 
en lille tyk satan der hedder Wang Li.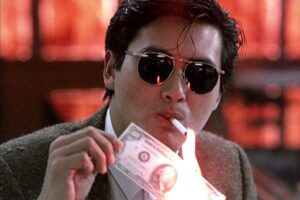 Han kommer mest for at hente penge og kneppe. I skal selv finde ud af hvorledes i er havnet der, og hvorledes i eksempelvis har en del cyberware, på trods af at det ikke ligefrem er et prangende sted at bo. I arbejder for Triads, hvor Chen er leder. Ham kender I dog ikke.
Detaljer omkring hvordan i er havndet der, hvad I laver, værdier, hvorfor I ikke er asiater og hvorfor I lige er sammen; udreder vi på næste spilleaften.
Bordellet: White as snow
Housed in an old brownstone building on the corner of 'illegal' and 'opportunity,' bums huddle together, gangers strut the streets, and the occasional salary man and harbor-worker comes slumming. The building has been retrofitted, rebuilt, and restored so many times that it's like an aging starlet wearing too much makeup in an attempt to stay young. The wild ivy growing out of the gutters adds to the effect. 
Everyday there is the sound of gun fire in the neighborhood, and several gangers has made an attempt to take over the place. You are there to prevent that from happening, control the "ladies", collect the Nuyen, fuck the girls, eat, drink, do some Novacoke and enjoy yourself. The money isn't great, but hey chummer it is work, with a lot of add on bonuses.