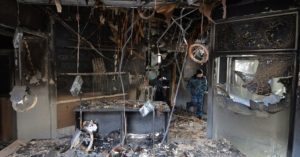 Early this morning, three armed assailants fire bombed an office of Analog Courier Services in the border of downtown Seattle.
The attackers used a van to ram through the front door and tried to set the building on fire using gasoline and grenades Knight Errant police officer discloses. He added that one receptionist and two customers were killed in the explosion and fire.

The KE spokesperson reports: "While a motive was not clear, small armed anarchist or domestic terrorist groups have set off attacks in Seattle for decades. They usually target official buildings, banks or symbols of power with small bombs or incendiary devices and often cause injuries. This hit is a little different, because Analog Courier Services is a small and new company with no power or threads into the official Seattle. There is some speculation on the street, that the hit might be gang, mafia, triad or even corporate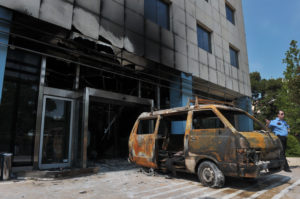 related – but no solid evidence as of now". Only clue are letters written in red paint on the street outside the office. It says: "All you are belong to us", but the meaning is still unclear to Knight errant.
"Police said initial information indicated three people had been inside the van. The hooded assailants forced the building's two security guards out at gunpoint before reversing the van into the front entrance, smashing the door. "They then triggered an incendiary device inside the van that police said appeared to have consisted of explosives and several containers of gasoline."
KE has not been able to identify the owner of the Analog Courier Services yet.