The Not-Tell-Motel has nothing to be proud of except being secret about their customers. If you want to disappear, get a quick fuck or otherwise live out your dirty, disgusting and pervert dreams – this is the place.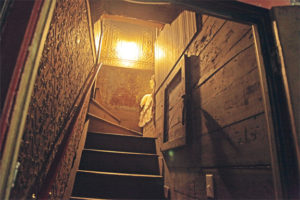 The location leaves a lot to be desired, unless you happen to be a free-lance exotic dancer. Nestled in a district of sex shops and strip clubs, the area attracts the sort of people that you would cross the street to avoid. As you enter the hotel, you are greeted by decor that is almost medival – and a strange old man who is always angry; and ironically smoking a cigar next to the 'no smoking' sign. He often leaves all contact with customers to his very out of date AI, even though he sits next to the counter. He misses all teeth in his front row and wears a, once white "wife beater" t-shirt. He goes by the name of "bugs".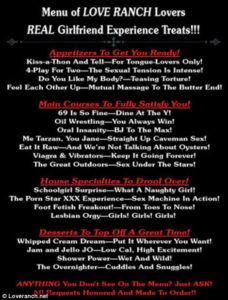 In the hallway, AR signs covers every area, which includes dark and dirty services.
In the hallways, the walls are carpeted – but at least the carpet is almost clean; unlike the carpet on the floor which have several bloodstains on it all over the hotel. The same story continues in the rooms; there hasn't even been an attempt to clean it. The floors and surfaces are coated in dust; as well as a whole host of stains which origin makes you throw up in your mouth. The minibar consists of half drunken bottles of mainly cheap vodka and occasionally some drugs.
The view from the windows is ridiculous. It looks out at a huge neon sign about two meters away. This means that it feels like 3pm all day, and opening the window does not affect the heat of the room whatsoever – it is like sleeping in a sauna. Some of the bed-sheets has been washed; but some still has hairs on them.
Most rooms have bugs like bed bugs. The bathroom is often covered in body hairs, and the sinks don't work. There is no shower curtain, and the shower is very inconsistent in terms of heat. There is a not so mysterious yellow stain under most toilets and brown stains on some of the towels. There is also a man going around rooms when guests arrive asking to use people's showers. Once informed, the hotel owner grabs a stick and goes searching for him. Gunfights and brawls happen all the time, but no one seems to care. In the dumpster behind the hotel, there will often be corpses or body parts left for some imaginary pick up.