A freak fire broke out at the Double Pines Apartment Complex in downtown Seattle early this afternoon.  The complex's fire suppression system managed to take down the worst of the blaze before Seattle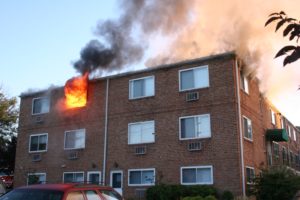 firefighters arrived, but one apartment was completely gutted by the flames. According to our sources, this apartment was the source of the fire and its identified occupant Fred Tennison died as a result. No other
injuries were reported. Fire Chief Juan Juarez issued a statement urging all neighborhood residents remain calm as the fire appears to be unconnected to this morning's riot and the other pre-election violence currently sweeping Seattle.